The Restaurant Furniture Buying Guide
Michael [ByDezign Furniture Staff]
You've written your business plan, chosen your location, written up your menu, you're thinking about staff and you're eager to get out there and run a successful restaurant. You've got all your bases covered, right?
Furniture is a crucial part of the restaurant experience and is an often overlooked aspect of opening and managing a restaurant. After all, your guests will be spending a great deal of their time getting acquainted with what they're sitting on!
When it comes to buying cafe, bar or restaurant furniture, you've committed to a balancing act. You're juggling comfort, cost, durability, how well everything fits with the theme /atmosphere you're going for, and unfortunately unless your budget is unlimited you may be trading these attributes off against each other. To make life easy, we've put together this comprehensive restaurant furniture buying guide.
Things to keep in mind while shopping
Your environment and concept
Make sure everything purchased is commercial grade
Consider maintenance requirements
Dual purpose furniture (i.e. an article that looks in place both outdoors and indoors)
Restaurant Chairs
Unless your environment and theme require them, armchairs should be disregarded as an option. They often do not fit completely under tables and require further pulling out than their armless counterparts. Armless chairs are much better at accommodating larger patrons.
Consider the lifetime cost – Good chairs aren't cheap. Buying commercial quality is an absolute must, check warranties, a commercial warranty of 2 years will see more action than a domestic chair of 20 years. A sturdy chair can be reupholstered many times, keeping it looking great at a fraction of the cost of replacing it – decisions like these may involve spending a few extra dollars up front but are the cheaper long term option.
| Materials and Styles | |
| --- | --- |
| Wood – Timeless elegance and it's ability to compliment many decors make it a popular choice of chair for restaurants. More luxurious environments require higher backed chairs. Upholstered cushions or seat covers provide greater comfort, bare seat models encourage speedier table turnover | |
| Metal – The retro feel of metal chairs makes them ideal for establishments toting raw brick, steel beams and pursuing the industrial look. The throwback retro feel also makes them perfect for dessert establishments or theme restaurants. Feeling less comfortable than wood furniture helps to discourage lingerers. Aluminium offers outdoor safe chairs. | |
| Plastic (High quality polymer) – In the plastic chair arsenal you have quality ranging from cheap and cheerful hardware store finds to upmarket European engineered solutions. Low cost, high durability and incredibly easy to clean up make plastic an under-utilized chair material. | |
| Parsons – Characterized by fully upholstered tall backs and seats, Parsons chairs give an elegant look and feel, encouraging diners to settle in for larger 3 course type meals. These are perfect for fine dining establishments. Light colours will show up dirt and stains faster. | |
| Slat-back - Vertical or horizontal slat supports on the back characterize this style of back, reasonably comfortable and great airflow. If placed outdoors slat-backed chairs do not catch the wind as easily. | |
Table Tops Sizing is a very important thing to get right, smaller tables for more romantic settings. Naked table tops will save on laundering and labour costs. It's also important to remember table tops factor into defining the feel and atmosphere of your restaurant.
Sizing round / square – 600mm square or round can be too small and are probably more suited to coffee shop / café settings where you expect customers to have a coffee and food served on not much more than a small plate.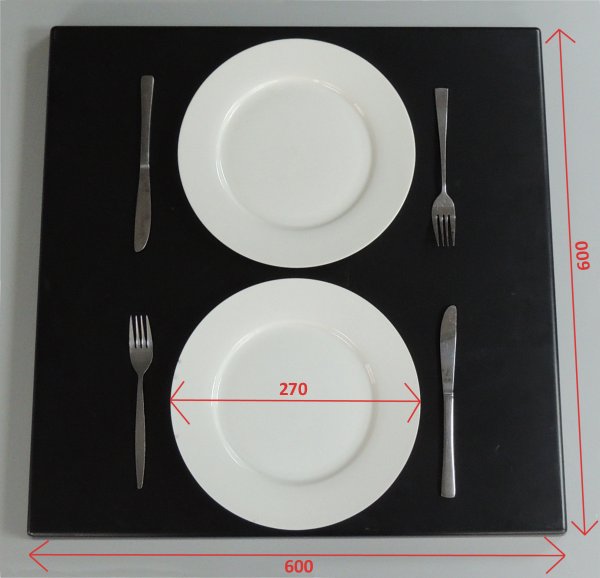 700mm sq/dia can comfortably accommodate two with full size plates, 800mm sq/dia can sit four with full size plates and cutlery, however this is more comfortable with 900mm sq/dia.
| Table top materials | |
| --- | --- |
| Aluminium – Practicality in all regards. Perfect for outdoor areas such as patio settings. Popular with fast food restaurants and frozen yogurt shops as they are cold in both temperature and atmosphere encouraging a quick table turnover. Easy clean up and lightweight. | |
| Solid Wood – Atmosphere and warmth are delivered with solid wood, making them a popular choice for fine dining restaurants, exclusive clubs and other upscale settings. The maintenance requirements and care required mean serious thought should go into whether or not solid wood is a necessity. Be sure imported wood is cured and sealed for the correct temperature and humidity conditions of your area and keep out of direct sunlight. Read our entire post on caring for wooden furniture. | |
| Veneer - Veneer can solve many problems associated with it's solid wood counterpart. It's cheaper, more robust and doesn't require the maintenance of solid wood. It's not prone to splitting or warping, veneer gives that solid wood feel without the commitment. It's also more environmentally friendly. | |
| Laminate – Durable and cost effective alternative to wooden tables. Laminate table tops have flame retardant and antibacterial properties, making these ideal for restaurants. Incredibly easy to maintain and clean, great for environments that will get a lot of wear. When weighing up whether to spend on low pressure laminate or high pressure laminate (HPL) consider how the furniture will be used and whether the extra protection HPL offers. In the long run, a few extra dollars up front could be worth it if it means reducing damage during daily use. | |
Table Bases – Style and material are your chief concerns when choosing table bases. Heavier table bases may be sturdier and look better, but are much harder to move when catering to larger parties. If the base in question needs to be located outdoors then (depending on the climate / weather where you are) your materials become limited to aluminium or stainless steel. Four leg table bases are far sturdier and less likely to tip than three leg bases.

| Styles and Materials | |
| --- | --- |
| Disc style base – Often chosen to match a round table top. Appropriate sized table tops are important as chairs may not be able to be pushed in fully and your customers may lose out on floor space. Easy to sweep and vacuum around. | |
| X-style base – Robust in table top choice, though often preferred for square tops. Not as obstructive to chairs as the disc style, however they are not as easy to clean around. | |
| Extended style base – Rectangular tables (1200mm x 800mm or greater) require an extended style table base. Usually easy to clean around and not obstructive to chairs. | |
| Cast Iron – Heavy but sturdy. Will be tough to move but match well with most types of décor. Very popular choice for indoor environments as they are typically quite easy on the wallet. | |
| Aluminium – Cost effective and lightweight. Easy to move, a popular choice among establishments that require outdoor tables brought in at night. Aluminium bases can be located outside in all-weather as rust is not an issue. | |
| Stainless Steel – Outdoor friendly, heavy duty. Can commonly run at 2 – 4 times the price of aluminium while providing similar properties and is thus often overlooked. | |