How to Clean Outdoor Cushions: the best way to care for your outdoor lounge
Michael [ByDezign Furniture Staff]
Disclaimer: UV conditions in NZ and Australia are quite hostile to outdoor fabrics. ByDezign recommends storing cushions indoors where they are sheltered from the elements when not in use. This will provide maximum longevity.
An outdoor lounge full of cushions and pillows creates a stylish and comfortable space that is a real delight to spend time in. Comfortable yet tasteful spaces with outdoor lounges make hosting garden parties and entertaining guests is both fun and comfortable.
And yet outdoor lounges require some necessary maintenance to protect them from the elements. Often left outside all year round, your favourite outdoor soft furnishings gather dust, debris, and possibly even the occasional pesky wine stains leftover from your last get-together.
Cleaning your outdoor cushions is a great way to keep them in good condition and looking fresh all season long. Plus, it's not as hard as you might think! With this helpful guide, you'll be able to keep your outdoor cushions plush and pristine all year round.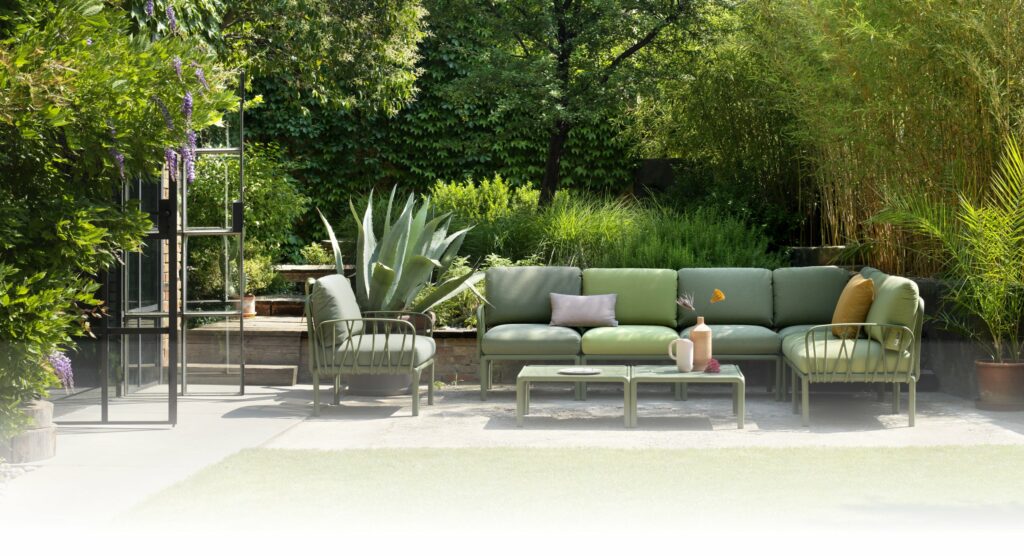 What is the easiest way to clean outdoor cushions?
Caring for your outdoor sofas and chairs is an important part of keeping them clean and in good condition. The more you maintain your outdoor lounge, the longer it will last.
Cleaning your outdoor lounge doesn't have to take hours. With our helpful advice, caring for your outdoor seating is simple and easy.
How to clean outdoor furniture cushions without washing
Sometimes, all your cushion covers need is a quick blitz to rid them of dust and debris. In this case, you can avoid the hassle of washing and drying your cushions by using a vacuum cleaner and damp cloth. Vacuum cleaners with an upholstery attachment are a great way to freshen up your outdoor furniture. Once vacuumed, wipe down the cushions with a lightly damp sponge and spray with an air freshener to leave your outdoor cushions feeling as good as new.
Can you wash outdoor seat cushions?
Many outdoor lounge cushions have a removable cover, making it easy to clean your cushions when needed. Washable covers are super convenient. Easy to clean without worry of damaging your cushion, washable cushion covers make light work of maintaining your garden furniture. After all, your washing machine is doing all the hard work, so you don't have to!
To wash outdoor seat cushions, simply remove the cover and pop in the wash with mild soap or upholstery-friendly detergent. Prevent shrinking by avoiding tumble drying and instead try laying the cushions flat to dry in the warm sunshine.
How do you clean outdoor cushions without removable covers?
Since not all outdoor lounge sets have removable cushion covers, it takes a little more effort to maintain your outdoor lounge. But not to worry, the process is still simple and easy!
How to clean outdoor lounge cushions
Outdoor lounge sets like our best-selling Komodo 5 Modular Outdoor Sofa are finished with a washable coating that allows you to wipe the cushion clean. Using a wet cloth and a washing-up bowl filled with diluted detergent, you can wipe the covers down to remove dirt and debris.
For a deeper clean, the best way to clean non-removable lounge cushions is with a steam cleaner. Available to buy or rent for several hours, a steam cleaner will both sanitize and deodorize your outdoor lounge set. After steam cleaning, leave to dry in a warm place.
How do you clean dirty or stained outdoor cushions?
Though stains, spills, and other accidents are more difficult to remove when your cushion covers are non-removable, it's not impossible!
Remove any residue
The first and most important part of removing a stain is to act fast. Fresh stains are less likely to have penetrated deep into the upholstery and are easier to remove. Depending on the substance, you should dab or scoop to remove any excess residue that is not yet absorbed. Next, use a dry cloth to firmly blot the stain and absorb as much residue as possible into the cloth. Take great care not to rub – this will only spread the residue instead of absorbing it.
Wash your coverings
If you've acted fast, you may have avoided the potential of a small spill turning into a dreaded stain. However, acting fast isn't always possible, making a deep clean inevitable.
While removable coverings can simply be put in the washing machine, non-removable covers should be washed by hand. Using a wet cloth and a small amount of mild soap or diluted fabric detergent, blot the stain with firm, dabbing motions. Once applied, leave for up to ten minutes and dab again until all detergent is removed. Repeat the process until the stain has disappeared.
Those who prefer a quicker and easier method may prefer to use a steam cleaner. Simple and easy to use, a steam cleaner is a great way to dislodge stains and clean your fabric furnishings.
Keep your outdoor lounge as good as new
With a little care and attention, your outdoor lounge will feel as good as new. Whether your outdoor lounge has a permanent place in your garden or stays inside during the cooler months, it's simple and easy to maintain your outdoor lounge set to keep it in pristine condition. By following this helpful guide, you'll have your outdoor lounge and cushions sparkling clean and ready to host your next garden party.