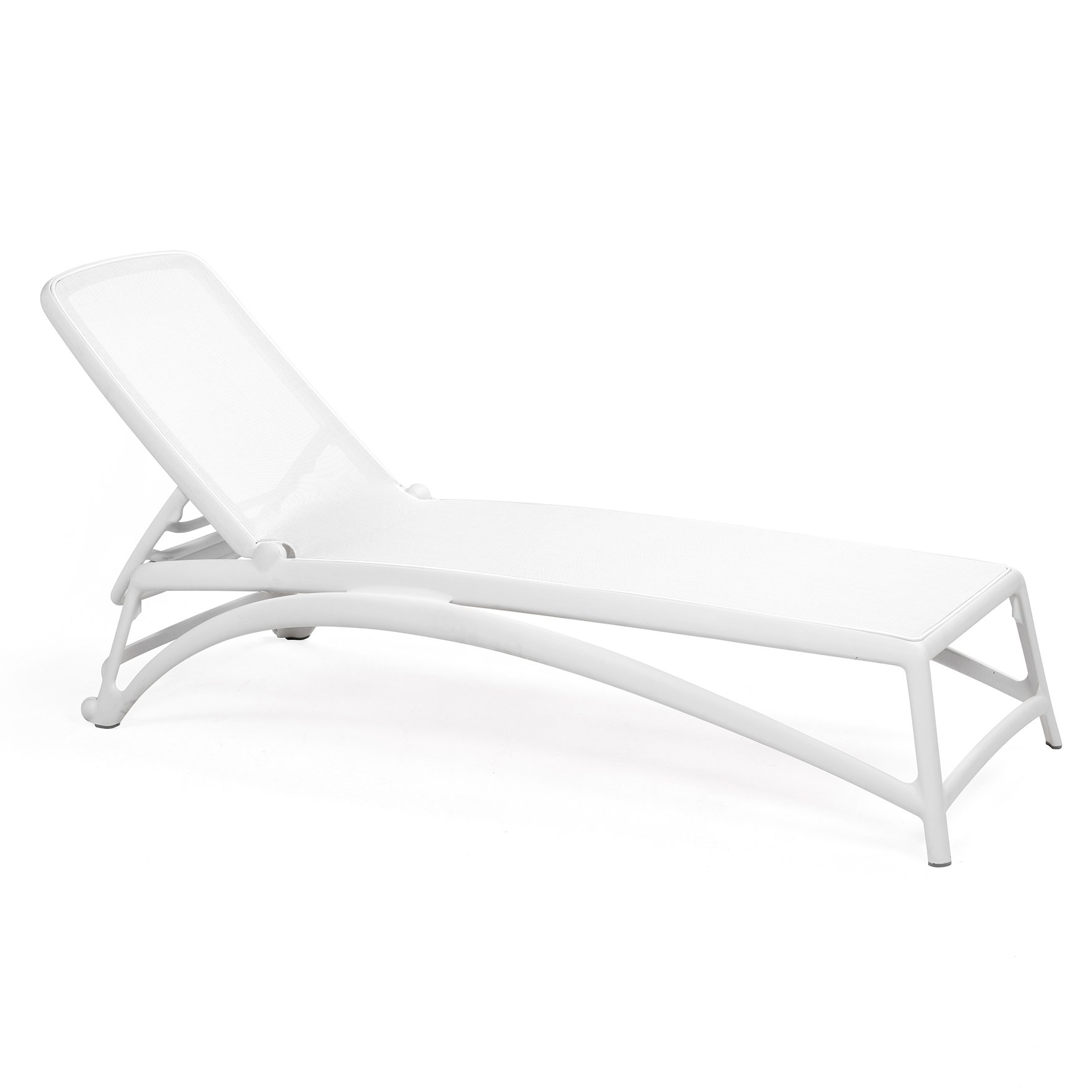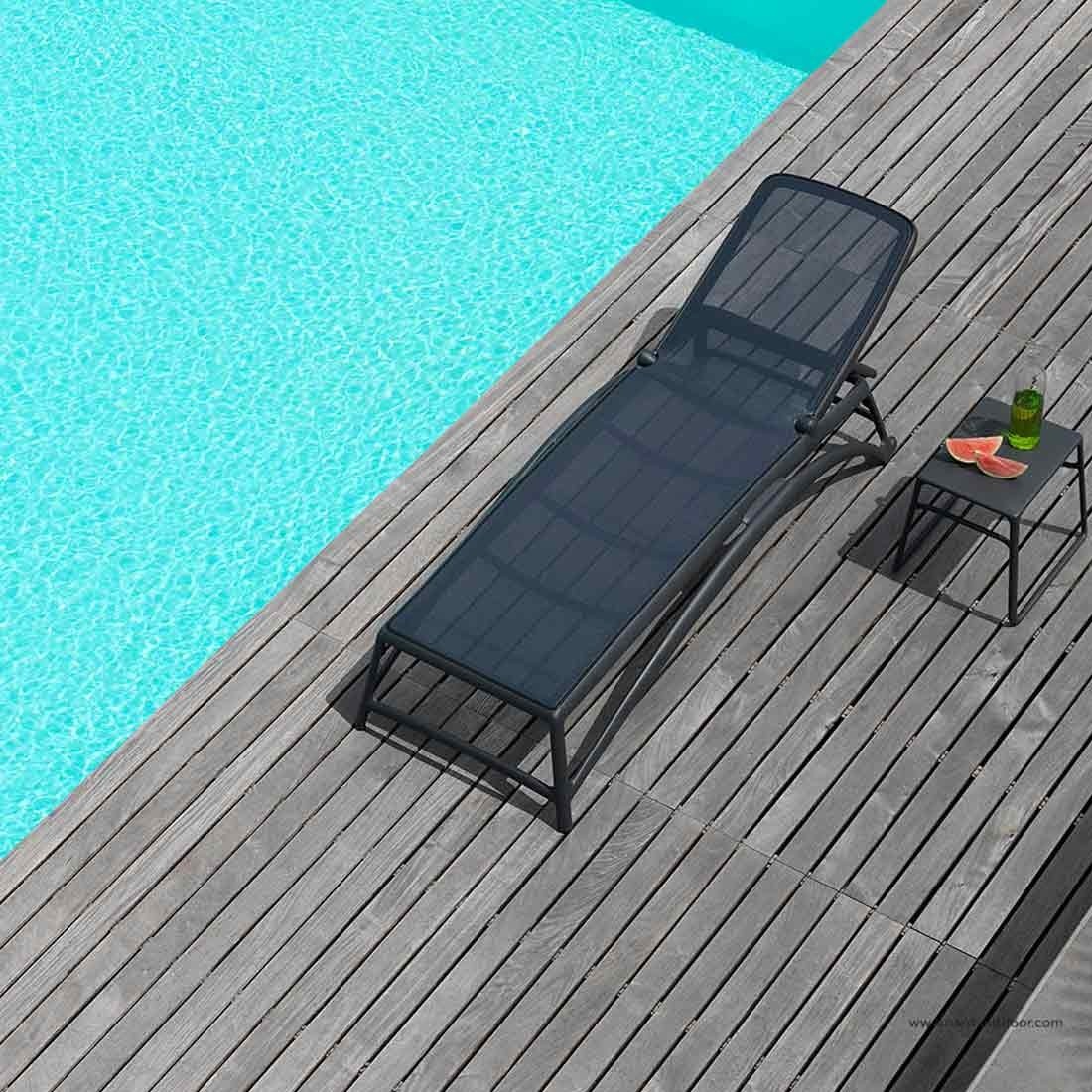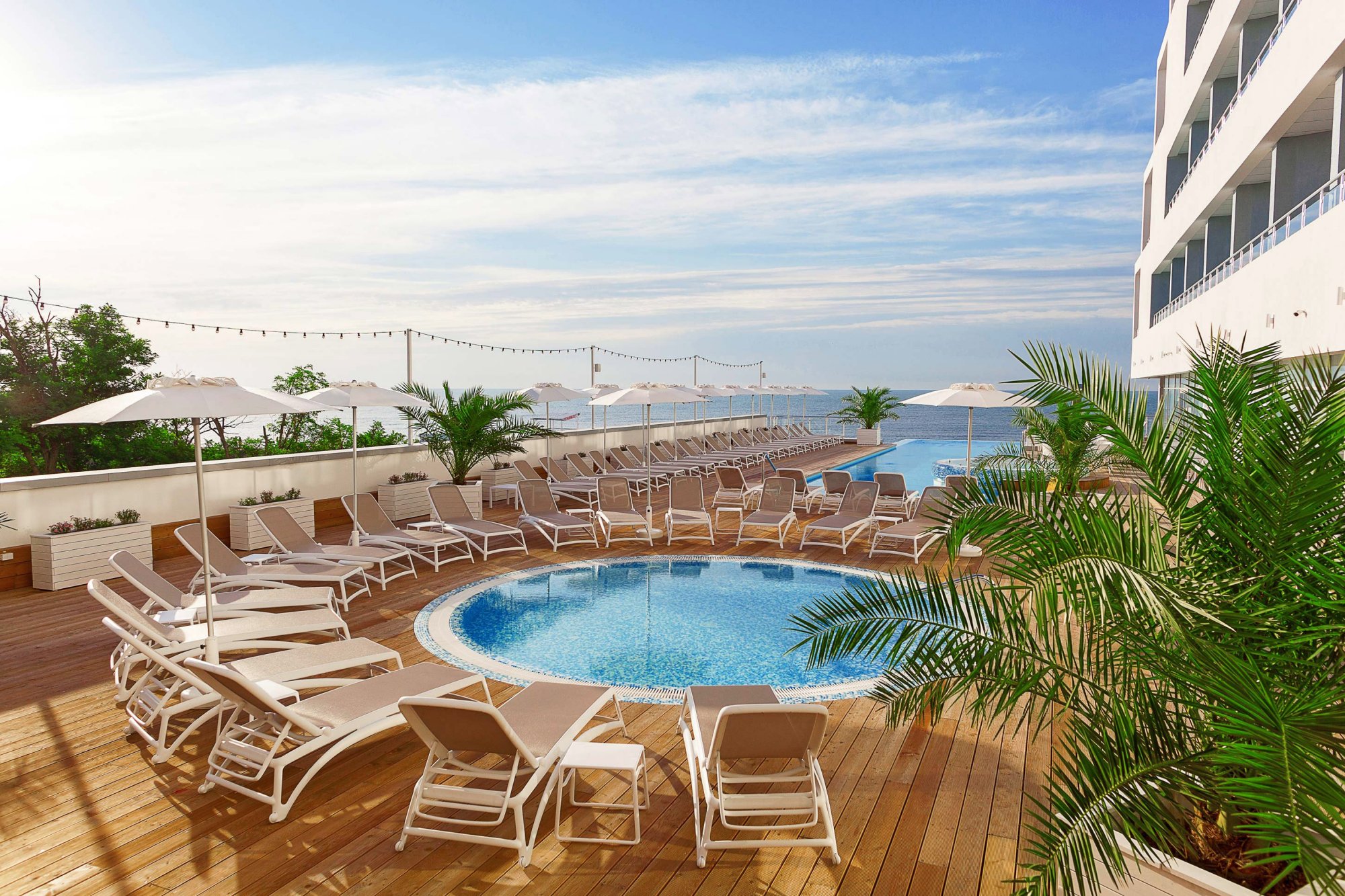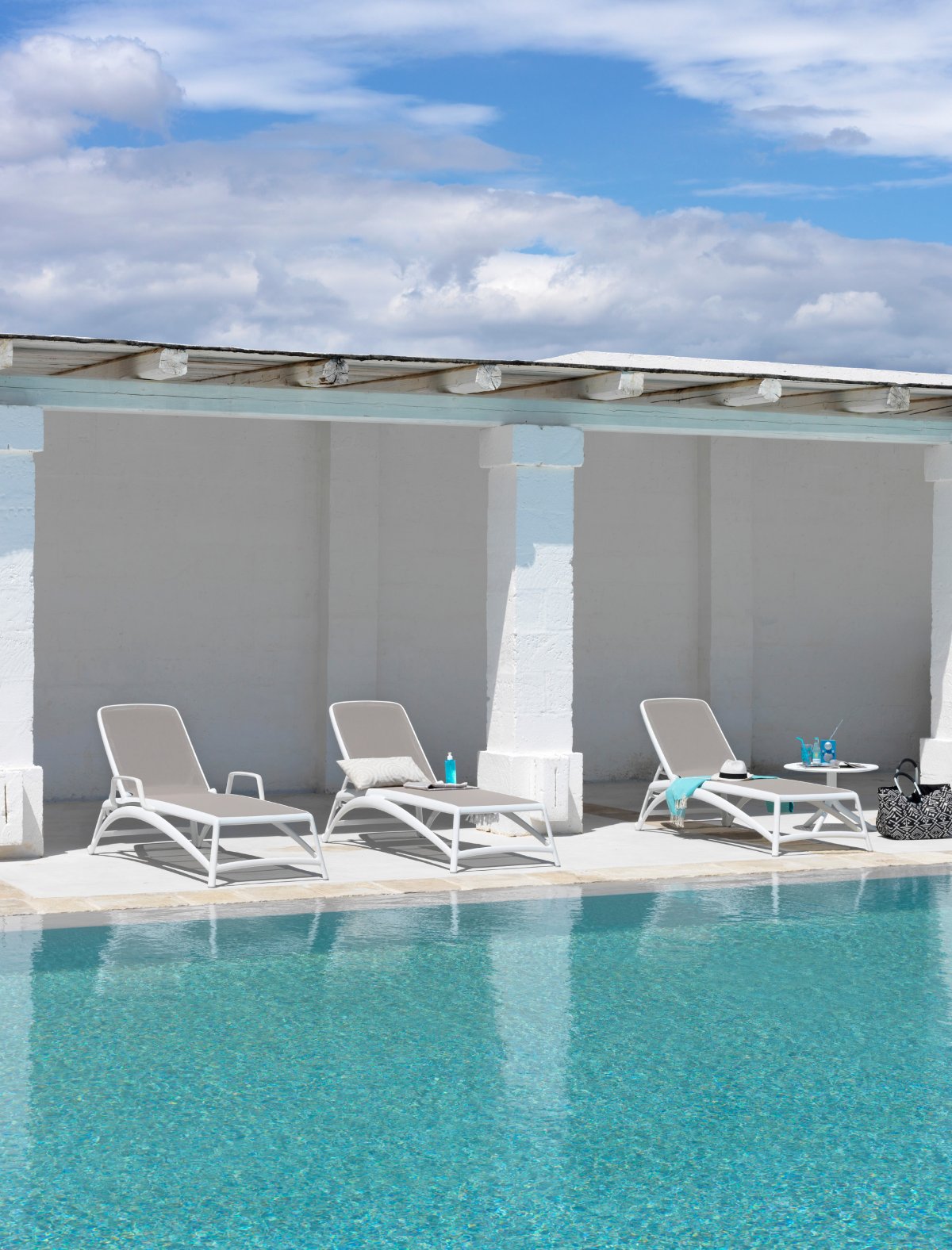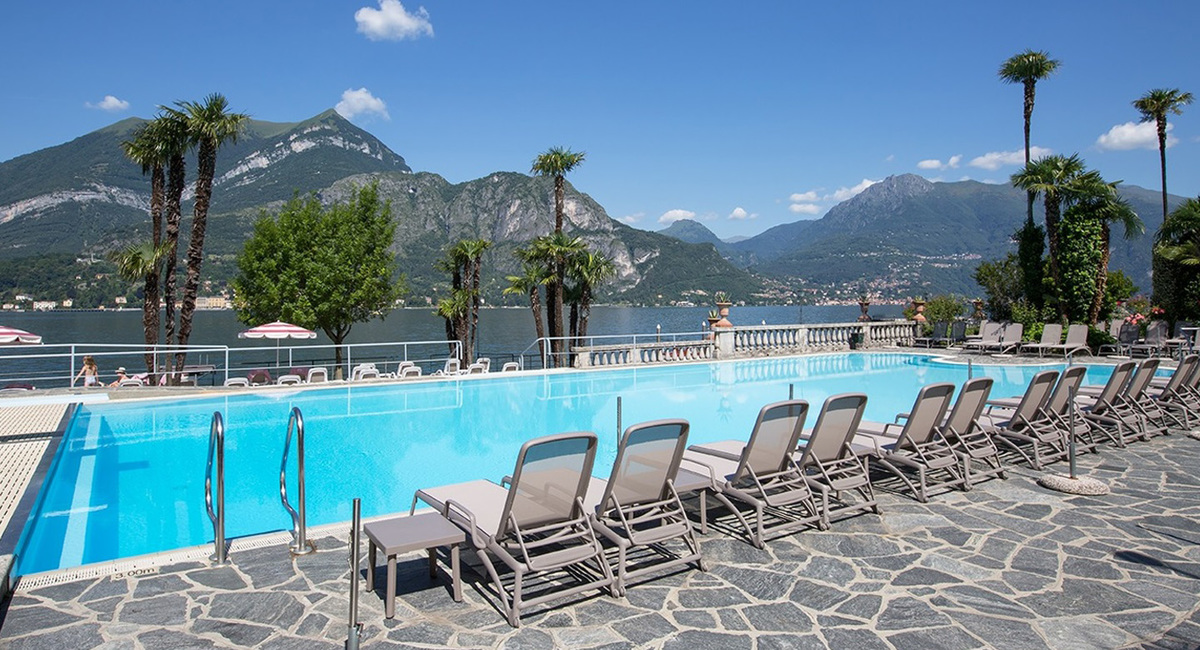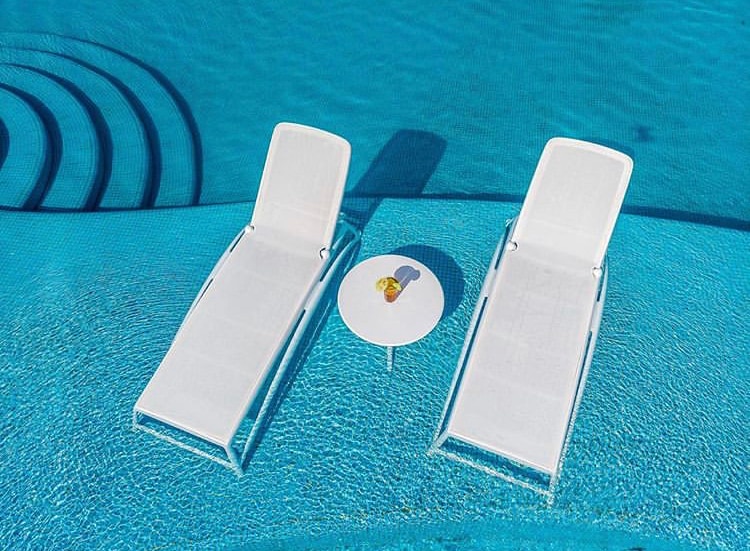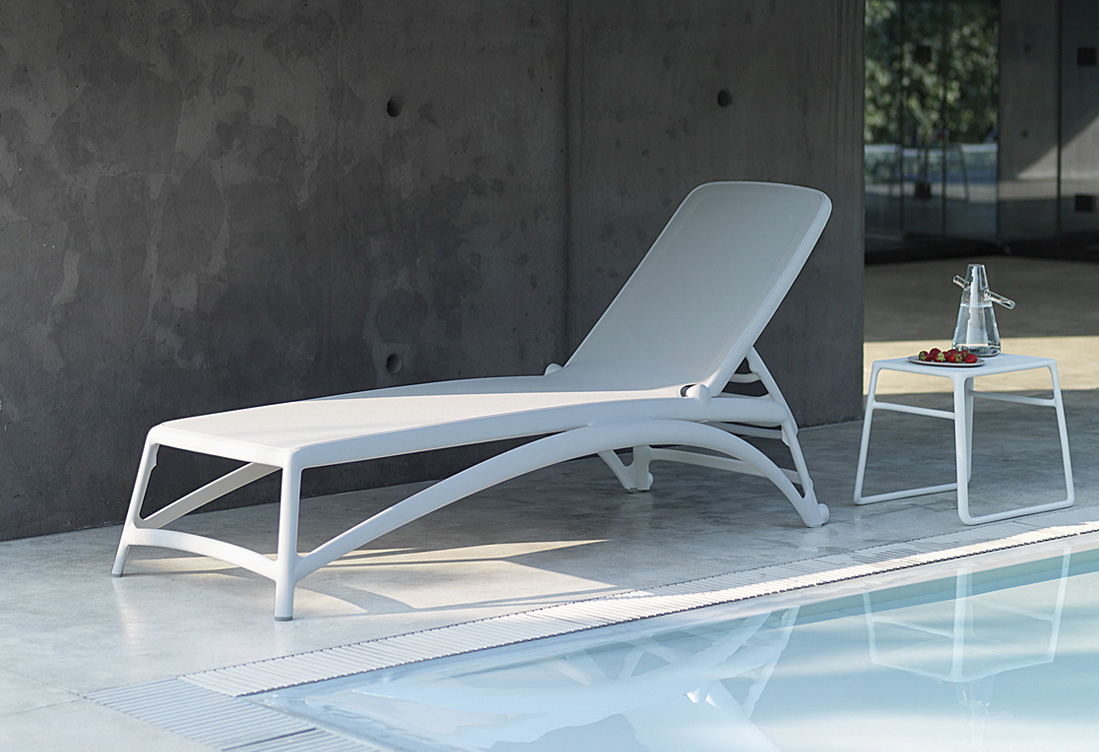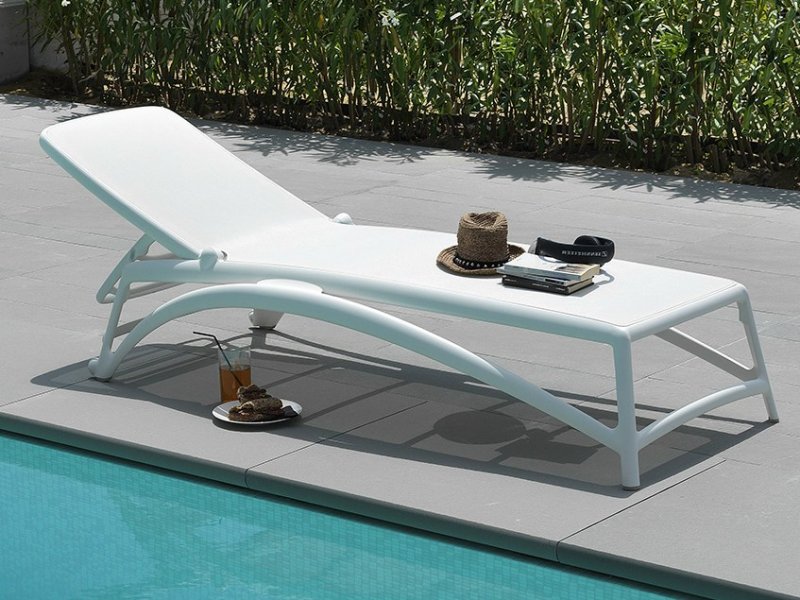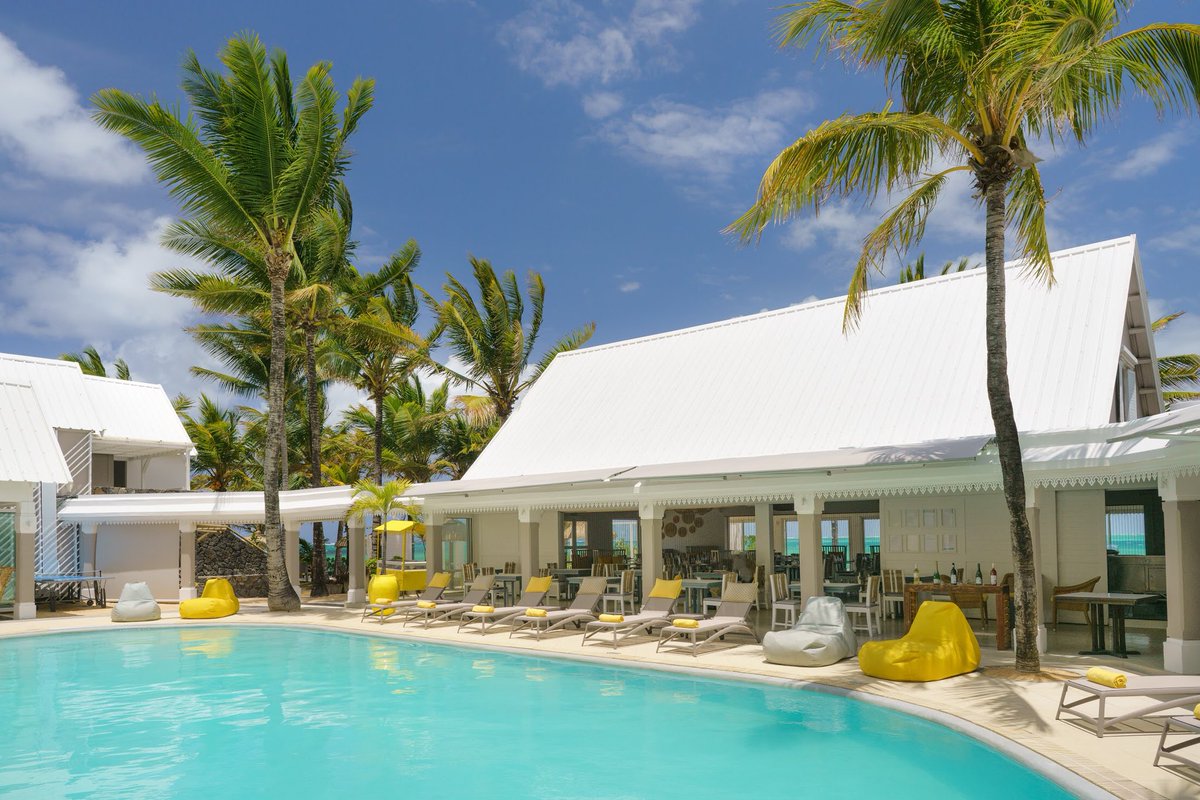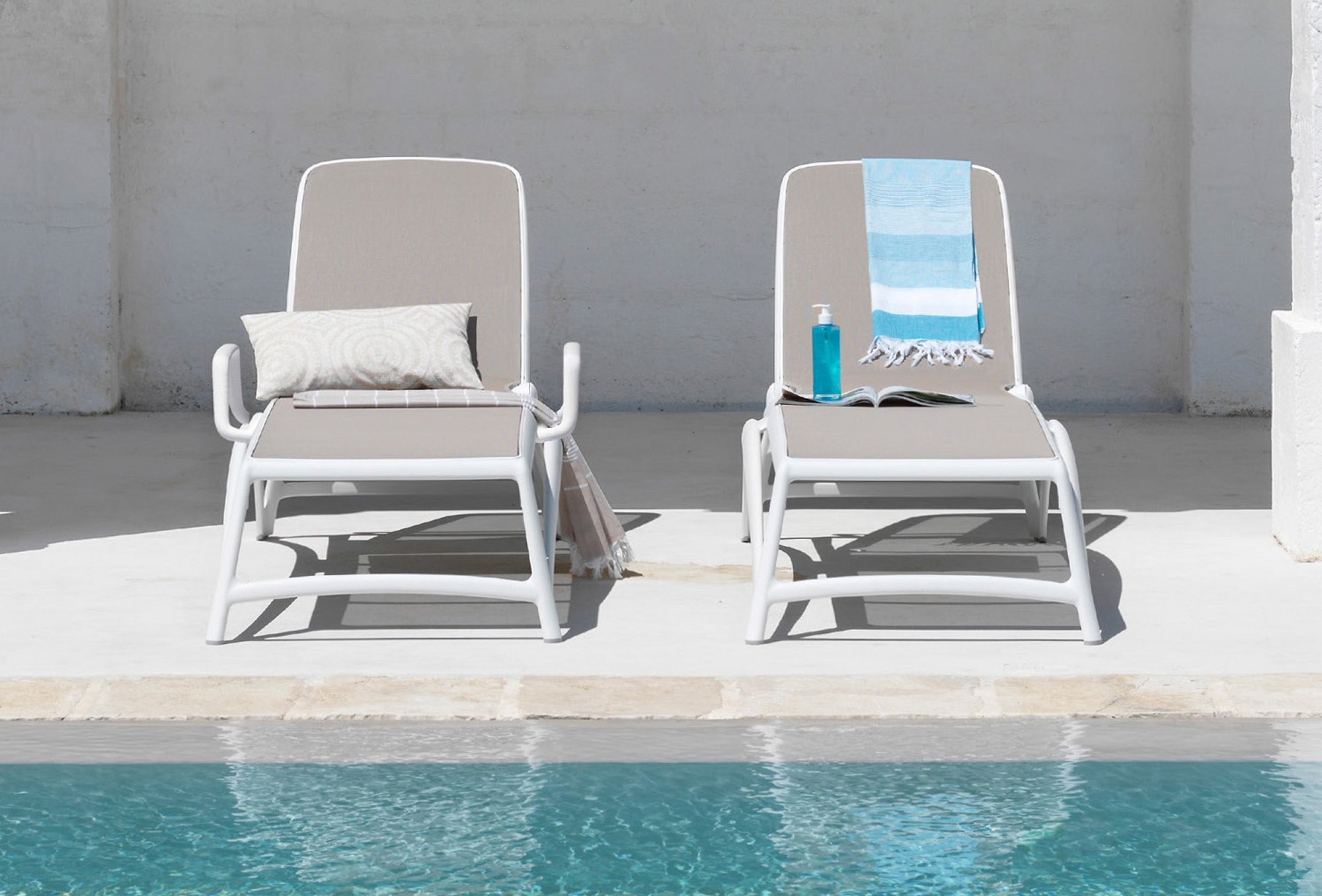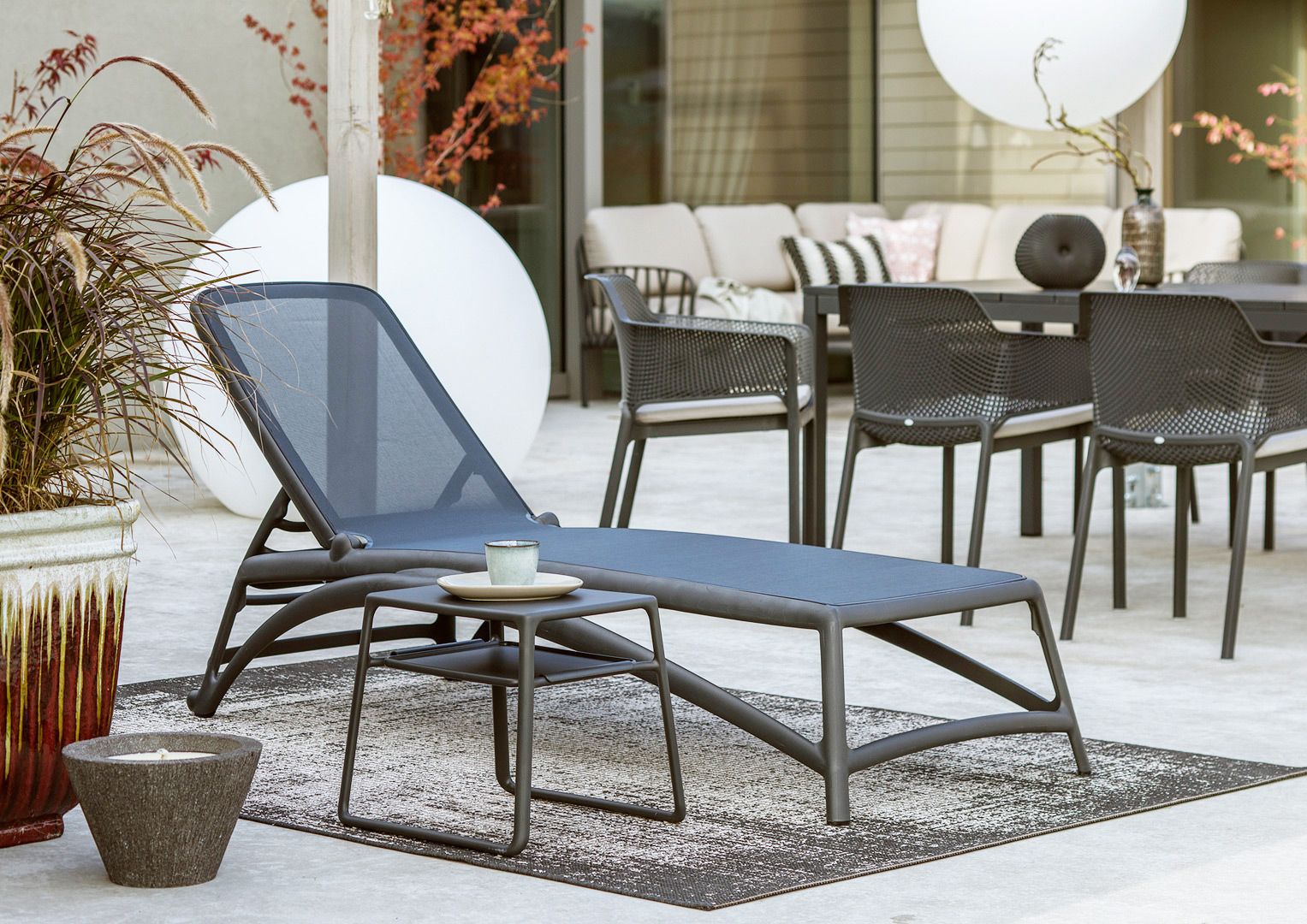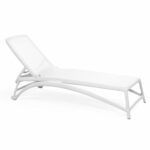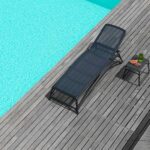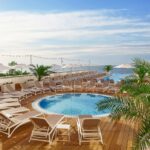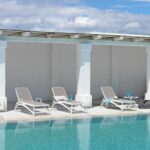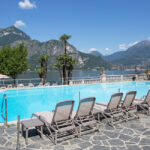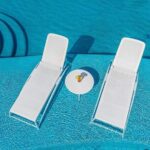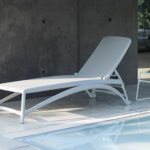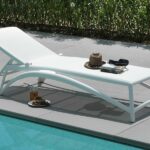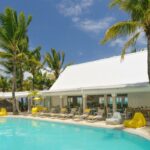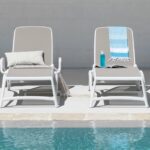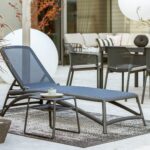 Atlantico Sun Lounger
$675.00 incl. GST
or 6 weekly interest-free payments from $112.50 with
what's this?
Create an idyllic resort style retreat and channel your holiday frame of mind in your own garden with the Atlantico Sun Lounger. A beautiful sun bed garden feature that's UV and Weather Resistant, has 4 Backrest positions and other awesome features.
Note: Armrests seen in some gallery images are not included
Description
Specifications
Weathering
Designer
Finance
Reviews (0)
Nardi Video
Downloads
Description
The Atlantico Sun Lounger, slim-lined & sleek with 4 backrest positions including lay flat. UV protected white exuding contemporary design suited for modern exteriors. Manufactured by NARDI of Italy, the design was conceptualized by renowned designer Raffaello Galiotto.
It's clean and straightforward structures & contours are comprised of robust polypropylene & fiberglass resin, a non-metallic blend ensuring rust will never be an issue. Both the frame and the breathable synthetic fabric bed are loaded with Italian engineered UV protective additives, allowing the Atlantico to live outside all year long if you so desire. The Atlantico Sun Lounger is a favourite among boutique style hotels, and Bed & Breakfast establishments, as well as plenty of family homes and baches – it truly is New Zealand's luxury armless sun bed solution. If you're searching for a tranquil sun-soaking station for your garden, poolside, deck area or patio, the coastal aesthetic of the Atlantico Sun Lounger will only enhance any alfresco living area and make a paradise of any garden.
Manufactured with the highest quality industry-specific materials in an injection mould process, the Atlantico Sun Lounger's construction boasts:
Polypropylene & Fiberglass Resin Frame (Commercial Grade)
Breathable Synthetic Fabric Sun Bed (Commercial Grade)
Ultra-Resistant to Weather & UV Light (Fade Resistant)
Non-toxic & Anti-static
The frame is ultra-strong, carrying a 200kg+ weight rating, while the sunbed itself has a bit of give, making this sun lounger incredibly comfortable for extended periods of time reading or just plain old sunning yourself. Cheaper alternatives can and will accumulate mould, mildew or even moss, turn brittle and fade in colour over just a few seasons, the Atlantico Sun Lounger is resistant to the scourge of growth, and top-grade materials mean you can clean them off with a simple wipe down of mild soap and water.
The Atlantico Sun Lounger model also shows off a range of practical features:
4 Backrest Positions (Including Lay Flat)
Concealed Wheels for Transport or Rotating to Face the Sun
Stackable (Handy for Storing over the Winter Months)
Rubber Plug Feet
The headrest folds over to allow stacking when not in use. The wheels make it effortless to manoeuvre around your patio or garden area and the rubber comprised feet ensure the sunbed will not skid or move around when in the desired area.
The Atlantico Sun Lounger's Colour Range:
White: The White colour is luxurious, tranquil and above all a safe, neutral bet. White is modern, and you'd have to go a long way to find an exterior colour scheme that it won't fit into. The UV resistant additives mean unlike other cheaper white outdoor furniture, it will go the distance, prove resilient and conquer the unholy alliance of NZ's harsh ozone-absentee conditions and time.
Taupe: The native Italian name for the colour we're calling Taupe on this Sun Lounger is "Tortora", which translates to English as "Turtle Dove" and thus implies Turtle Dove Grey. This beige-grey tone appears warmer than its stark white counterpart, and can lend itself to a whole host of surrounding décor colour palettes. The flexibility of this shade ensures it can be a main feature in your garden or patio or become a tasteful neutral accent colour if it's subordinate to the current colour scheme of your place.
Charcoal: Charcoal Grey as a colour, in interior and exterior design has become synonymous with minimalist, clean design. A colour that pops up frequently in nature – think stones, birds or stormy skies, it lends itself very well to natural colour palettes, and materials such as wood. It contrasts well with the greenery of your garden, it's hard to go wrong with a tasteful neutral shade such as dark Charcoal Grey.
---
Is the Atlantico not your thing, or prefer a model with armrests? Have a look at our Sun Loungers Category.
Note: Armrests seen in some gallery images are not included
Additional information
| | |
| --- | --- |
| Lounger Dimensions | L1710mm – 2040mm (Flatbed) X W700mm X H990mm (Upright) | Bed Height: 350mm |
| Recline Function | 4 Positions (Including Lay Flat/Flatbed) |
| Brand | Nardi |
| Multi Coloured | Charcoal & Charcoal, Taupe & Taupe, White & Taupe, White & White |
| Availability | |
| Origin | |
| Outdoor Safe | |
| Frame Material | Polypropylene & Fiberglass Resin |
| Bed Material | Synthetic Breathable Fabric |
| Material Properties | 100% Recyclable, Anti-static, Non-toxic, Waterproof |
| Resistant To | |
| Stackable | |
| Foot Properties | Non-slip, Small Wheels for Transport |
| Assembly Required | |
| Cleaning Instructions | |
| Weight | 16kg |
| ISO 9001 Certified | Yes |
How do NARDI manufactured materials weather?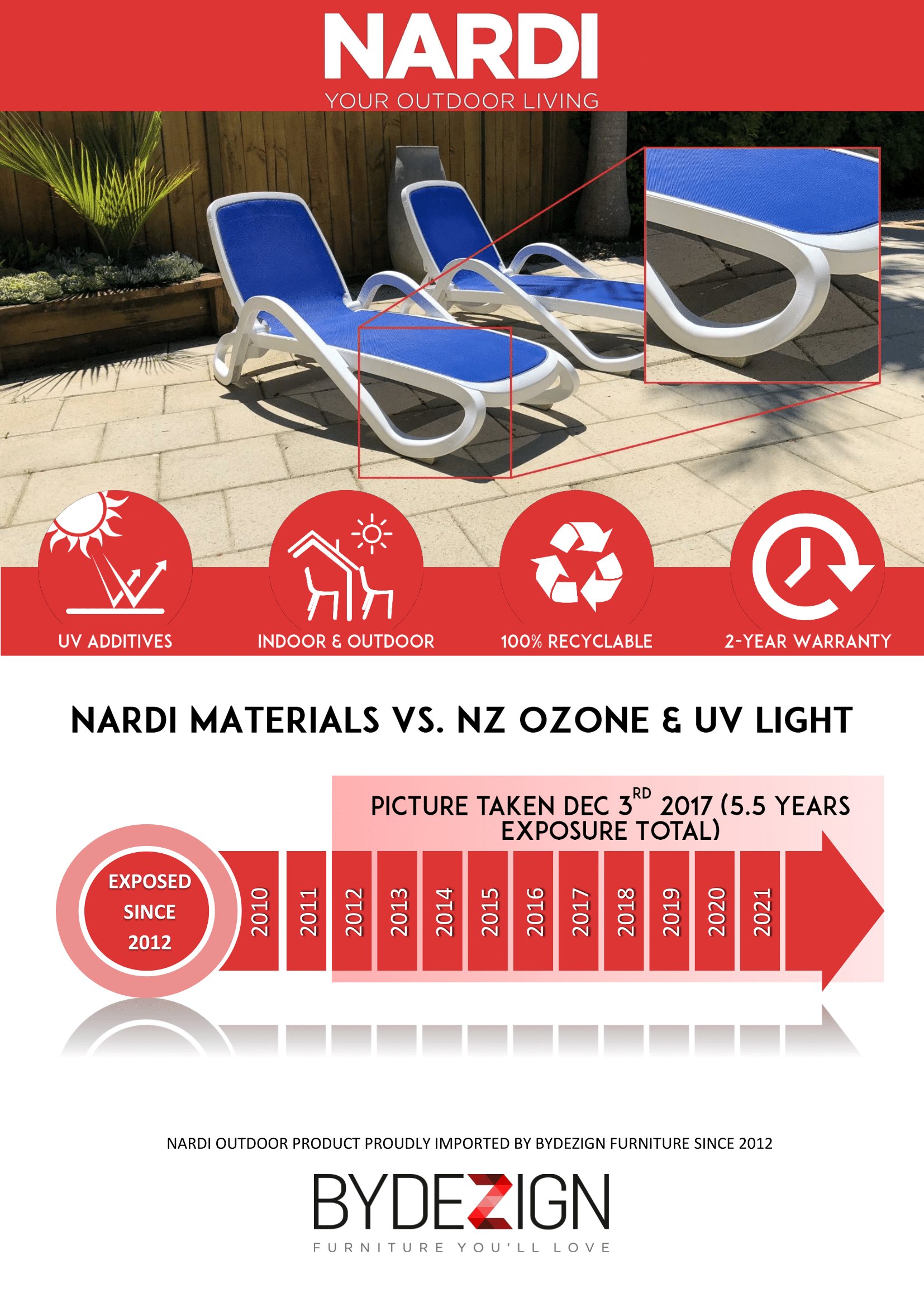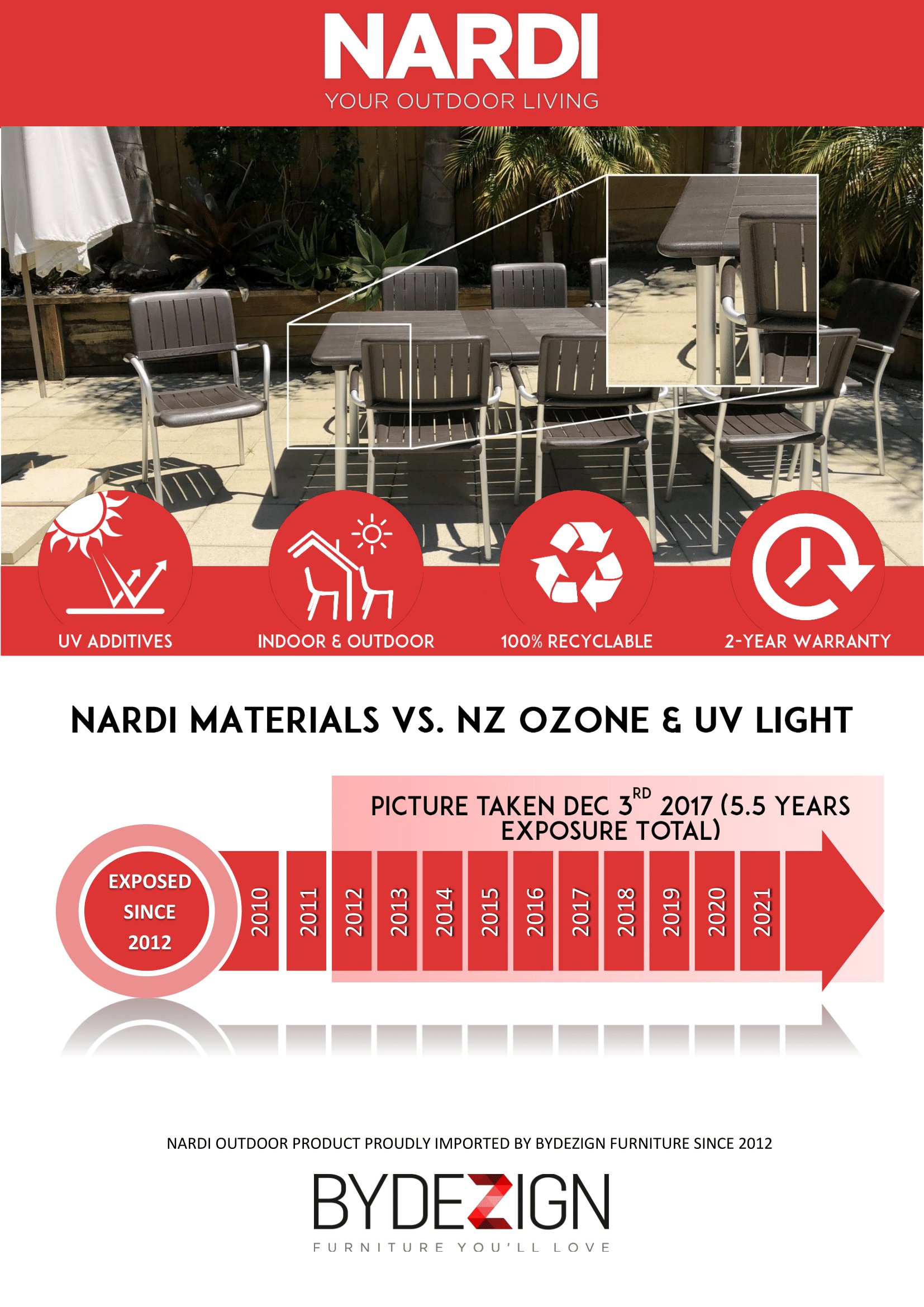 Nardi Outdoor Furniture Designer – Raffaello Galiotto

Born in Chiampo (Vicenza – Italy) in 1967. After studying Fine Arts at Accademia di Belle Arti, in Venice, he founded & opened his own industrial design studio in 1993. His areas of specialization involve designing injection moulded plastic products, indoor & outdoor furniture, and stone & marble work. His projects have been exhibited in prestigious museums & international events, as well as being published in books & magazines. He currently teaches design at the University of Ferrara.

You can find more information about the designer on Nardi Outdoor's Raffaello Galiotto – Designer Profile.
FINANCING WITH OUR PARTNERS
ByDezign Furniture offers a range of flexible furniture funding solutions via our financing partners so you can get your hands on the equipment you require without the need for a large upfront capital outlay.
Financing your furniture in this day and age couldn't be easier. With these options, we can have your furniture financed in as little as one day. Our partners have teams of dedicated professionals that can offer fast and flexible financing options for your business or personal needs.
---
Q-Card – One of the Best Credit Card Alternatives

*Q Card lending criteria, $50 Annual Account Fee, Establishment fees, terms and conditions apply.

Silverchef – Dedicated Kitchen & Hospitality Equipment Funder

*Silver Chef lending criteria, fees & terms and conditions apply.
---
If you've got any queries please feel free to drop an email to info@bydezignfurniture.co.nz or give us a call on (09)589-1895 and talk to one of our helpful staff. Please note that financing is not guaranteed, each of these options has their own set of criteria and terms & conditions that must be met in order to qualify.

Brand: Nardi