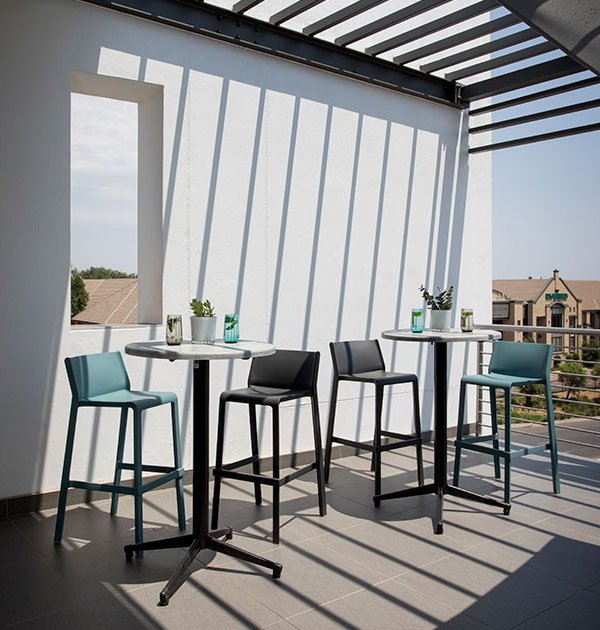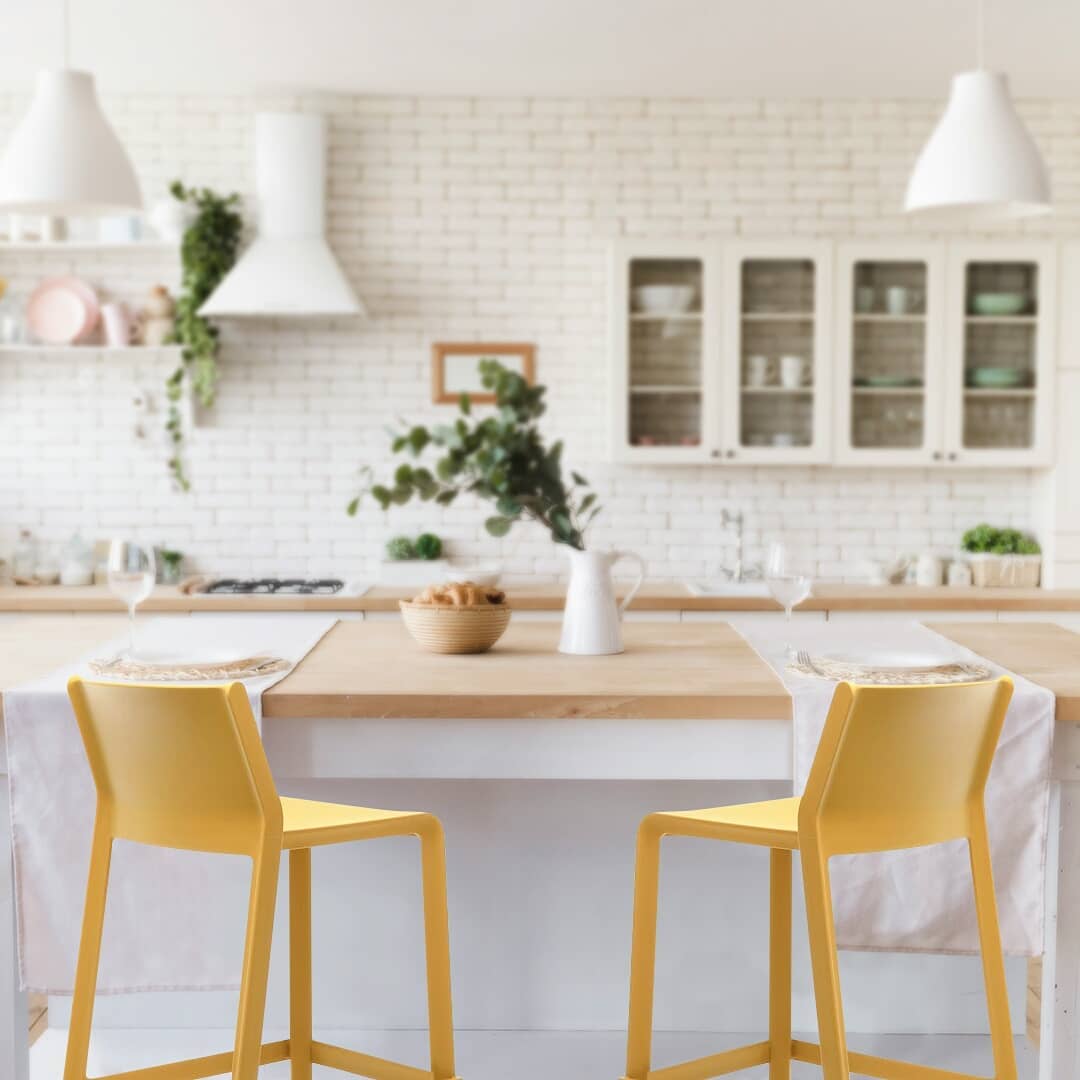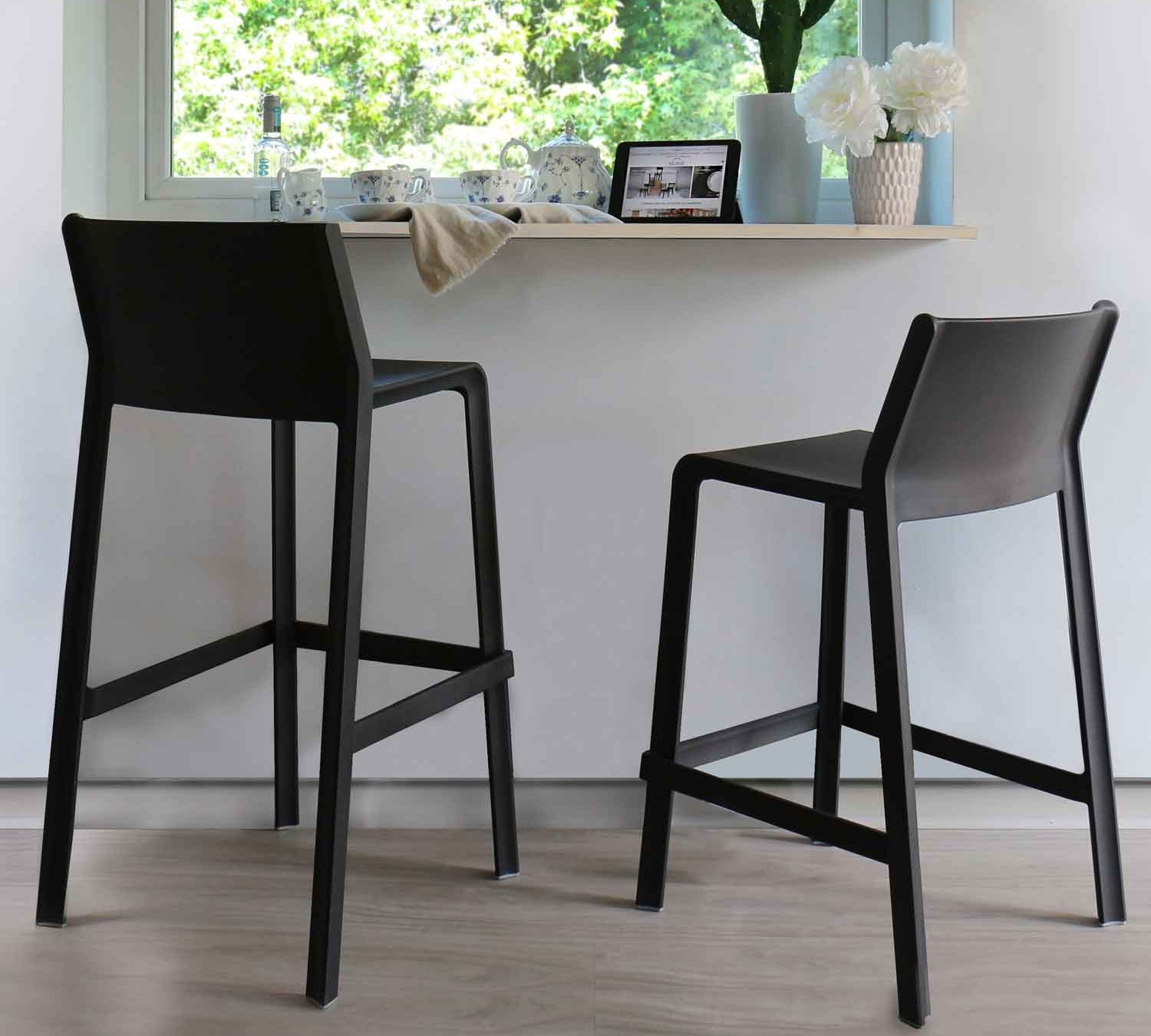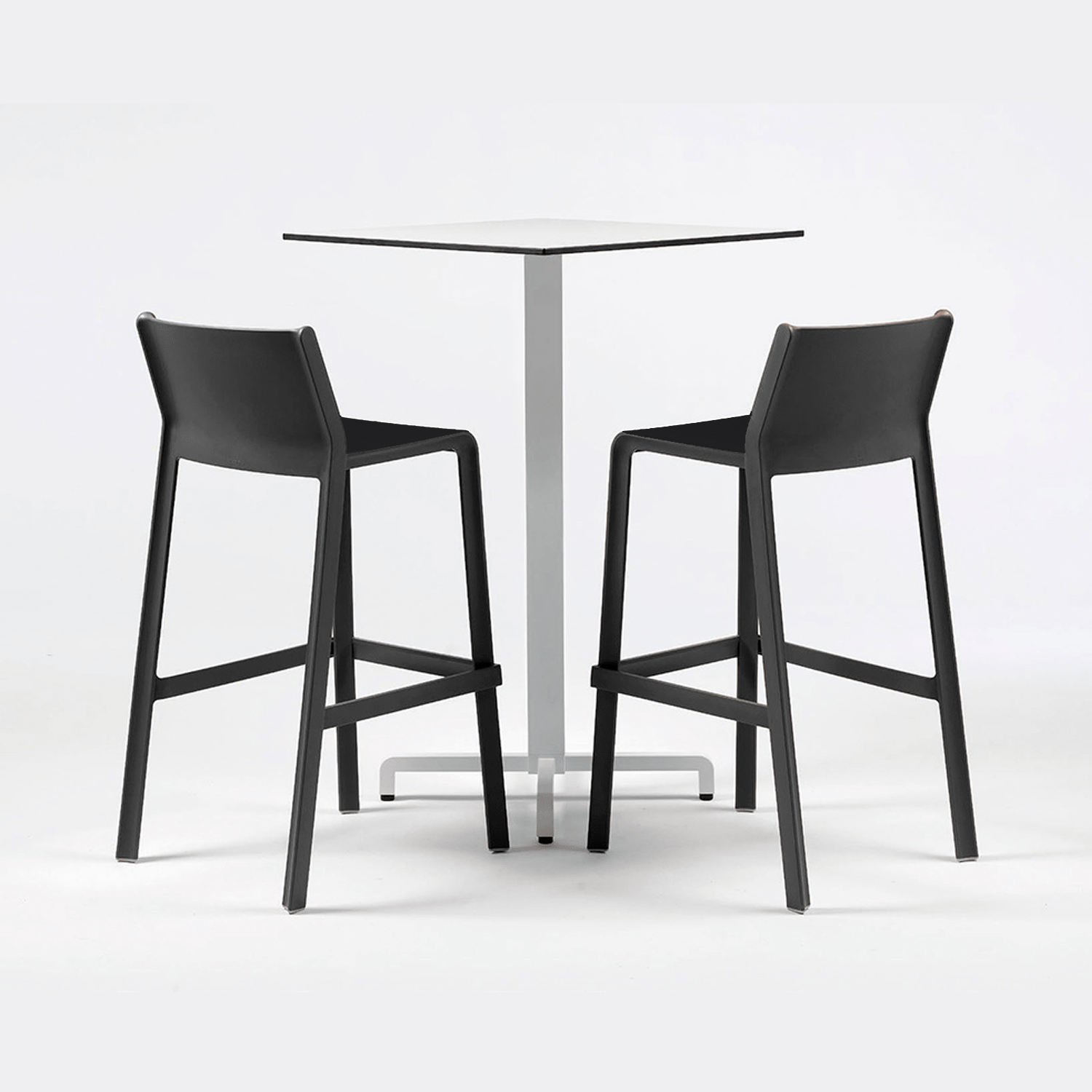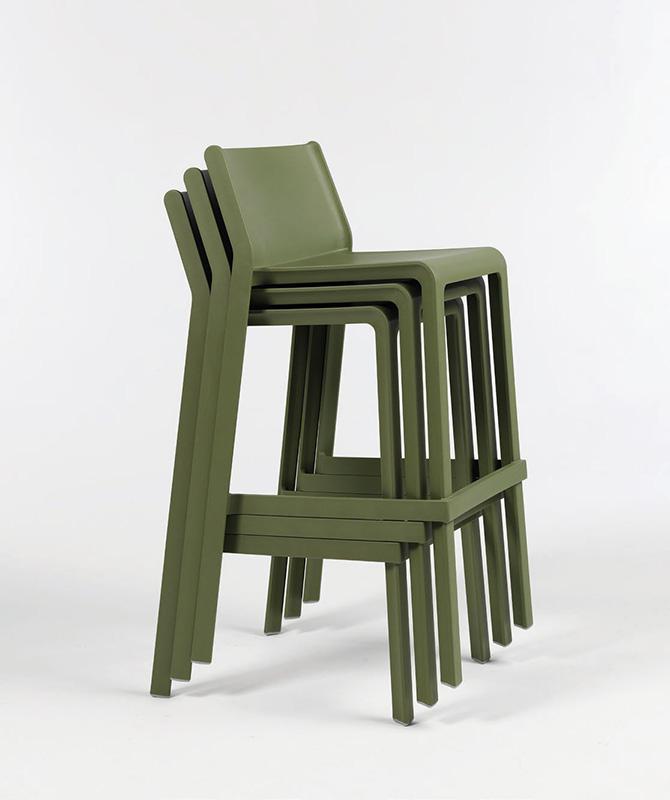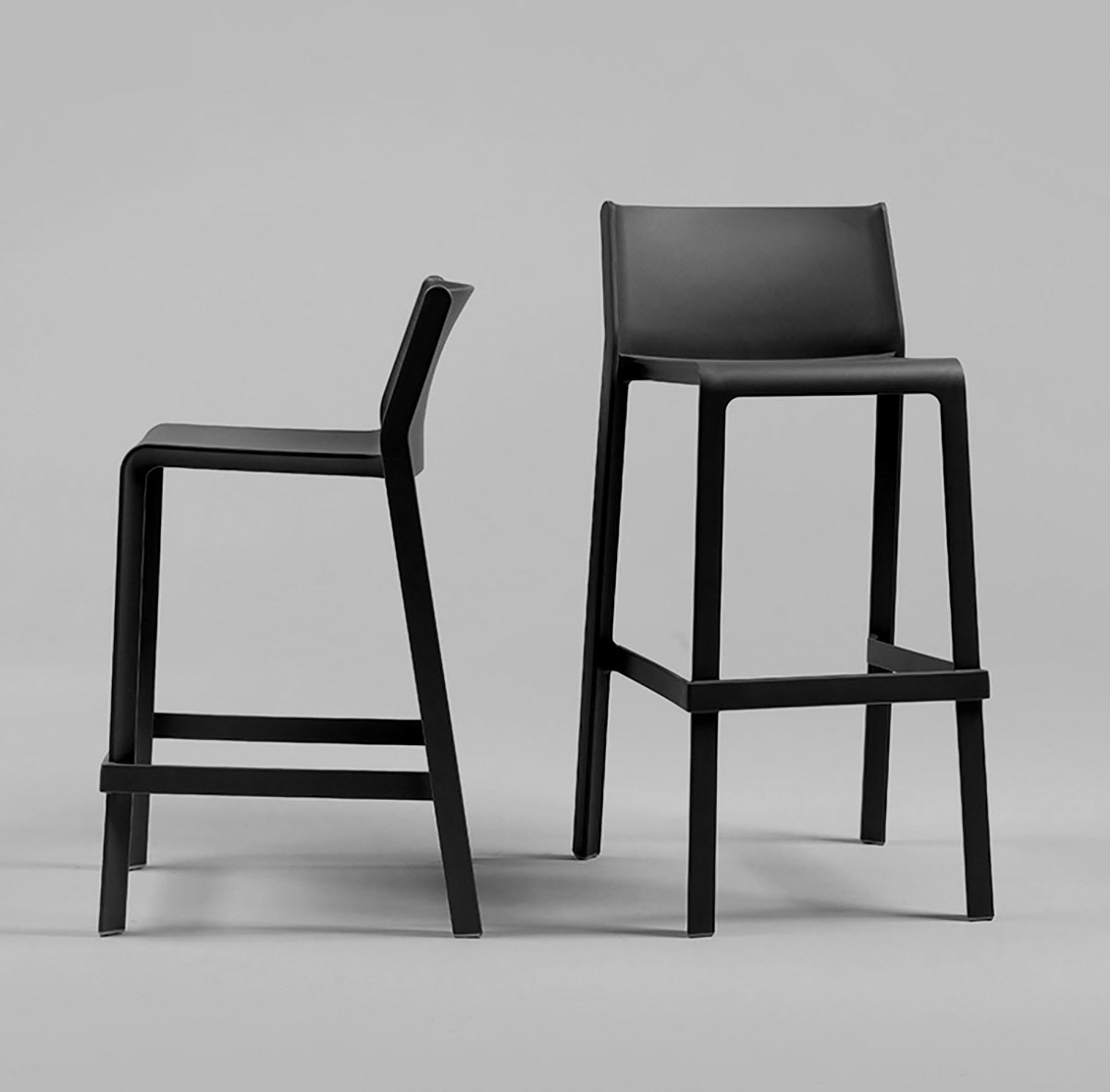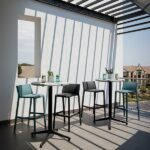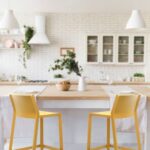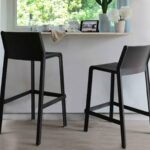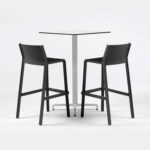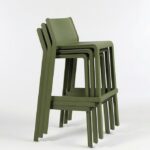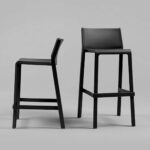 Trill Tall Bar Stool
$199.00 incl. GST
or 6 weekly interest-free payments from $33.16 with
what's this?
The Trill Tall Bar Stool delivers European Contemporary Style that's 100% Italian Made & Designed. Commercially Rated & Looks Great in both Indoor & Outdoor areas!
Description
Specifications
Weathering
Designer
Finance
Reviews (0)
Nardi Video
Downloads
Description
The unique, modern & stylish Trill Tall Bar Stool, a uniform coloured mono-bloc stool. Made & designed by NARDI of Italy with weather & UV resistant polypropylene & fiberglass resin. Commercially rated with a 2-year manufacturer warranty this stool is beautiful enough for residential customers, and robust enough to stand up to the hard life of bars, cafés and restaurants.
The Trill's straight edge and chunky bloc look is bold and eye-catching while at the same time conveying the elegance and modernity that we've come to expect from a Raffaello Galiotto NARDI design. The Trill colour range contains 5 awesome colours, one of which is sure to fit perfectly into or complement your surrounding décor.
Crafted in an injection mould process using top-grade manufacturing materials, the Trill Tall Bar Stool's composition touts the following qualities:
Commercial Grade Polypropylene & Fiberglass Resin
100% Recyclable Materials
Ultra-Resistant to Weather & UV Light (Fade Resistant)
Non-toxic & Anti-static
In spite of the fact that these stools are used indoors for most sales, using the Trill Tall Bar Stool outside is where its robust construction and high-quality manufacturing materials truly show their worth. They may be slightly pricier than other options, however, inexpensive solutions can and will fall victim to the accumulation of mould, mildew & moss. These not only have a negative effect on the look of your bar stools but can also compromise structural integrity. The Trill Tall Bar Stool's materials are resistant to biotic nuisance and requires only a simple soap and water solution to clean and maintain. The Trill's resin is packed with weather & UV resistant additives that protect its vibrant colours and structure, even against NZ's harsh UV conditions.
The Trill Tall Bar Stool's practical features include:
200kg+ 3rd Party Tested Weight Rating
Stackable
Rubber Plug Feet to prevent movement
Low Maintenance & Easy to Clean (Mild Soap & Water)
The Trill Tall Bar Stool's Colour Range:
Charcoal: Charcoal grey is an intermediate ground between two non-colours, black and white, in the case of this particular charcoal, heavily skewed toward black. In recent years it has become a favourite of minimal, modern and clean interior and exterior design – adding depth wherever its placed. Its softer than black, and plays well with a variety of colour combinations. Often observed in nature it lends itself well to natural colour palettes such as those of wood and stone, or the greenery background of a garden.
White: White in the kitchen is universal. A colour that signals the cleanliness of a space, and when used correctly stands out as solemn and magnificent. White never goes out of fashion and is the alpha of all neutral colours due to its unparalleled flexible decorative qualities. White gives the illusion of volume, helping to visually expand rooms and make space feel more than it is. It looks great on contrasting backgrounds and when paired with accent colours or materials, such as wooden flooring. Within the context of the Trill range, white in combination with the stool design is quite minimalist & modern.
Olive Green: A dark yellowish-green, most often seen in military camouflage on uniforms and vehicles, and hunting attire. In spite of its association with the more brutal, it's known as an international colour of peace, ironically, we presume! It's a cooler more casual hue that doesn't cry for attention, rather taking a more confident stance in its solidity. Olive green is said to evoke feelings of wisdom & compassion as well as harmony & diplomacy.
Teal: A medium blue-green colour, its name comes from a bird (common teal) which has a teal coloured stripe on its head. The love child of the calming properties associated with blue and the renewable qualities associated with green, teal evokes a sense of relaxation and positive energy. It is revitalizing and rejuvenating, adding a lick of tranquillity & the ocean to your space.
Mustard Yellow:
A lively and cheerful orangey-yellow goldish colour, perfect for adding vibrant accents in the design of your space. Mustard Yellow sits between yellow and orange, leaning toward yellow which accentuates its golden sunny properties. Thought to symbolise and promote energy and confidence, this colour adds a vibe that's happy, playful and optimistic.
---
The Trill Bar Stool and other Tall Bar Stools with a seat height of 760mm are not suitable for regular kitchen counter height use (kitchen counter height of 900mm), these are made for higher counters that rest at roughly 1050mm high.
Is the Trill Tall Bar Stool not quite what you were looking for? Have a look at all the bar stool models in our Bar Stools catalogue page. If you're in need of something outdoor safe, you can refine your search for Outdoor Bar Stools. If you know the height you require, take a look at all of our Tall Bar Stools or Kitchen Counter Height Bar Stools.
Come and visit us at our Auckland Furniture Showroom and make sure your picks live up to your personal comfort and quality standards.
Additional information
| | |
| --- | --- |
| Overall Dimensions | D530mm X W500mm X H965mm | Seat: 760mm |
| Brand | Nardi |
| Colour | |
| Availability | |
| Origin | |
| Outdoor Safe | |
| Material(s) | |
| Material Properties | 100% Recyclable, Anti-static, Non-toxic, Waterproof |
| Resistant To | |
| Stackable | |
| Foot Properties | Non-slip |
| Assembly Required | |
| Cleaning Instructions | |
| Weight | 5.1kg |
| ISO 9001 Certified | Yes |
How do NARDI manufactured materials weather?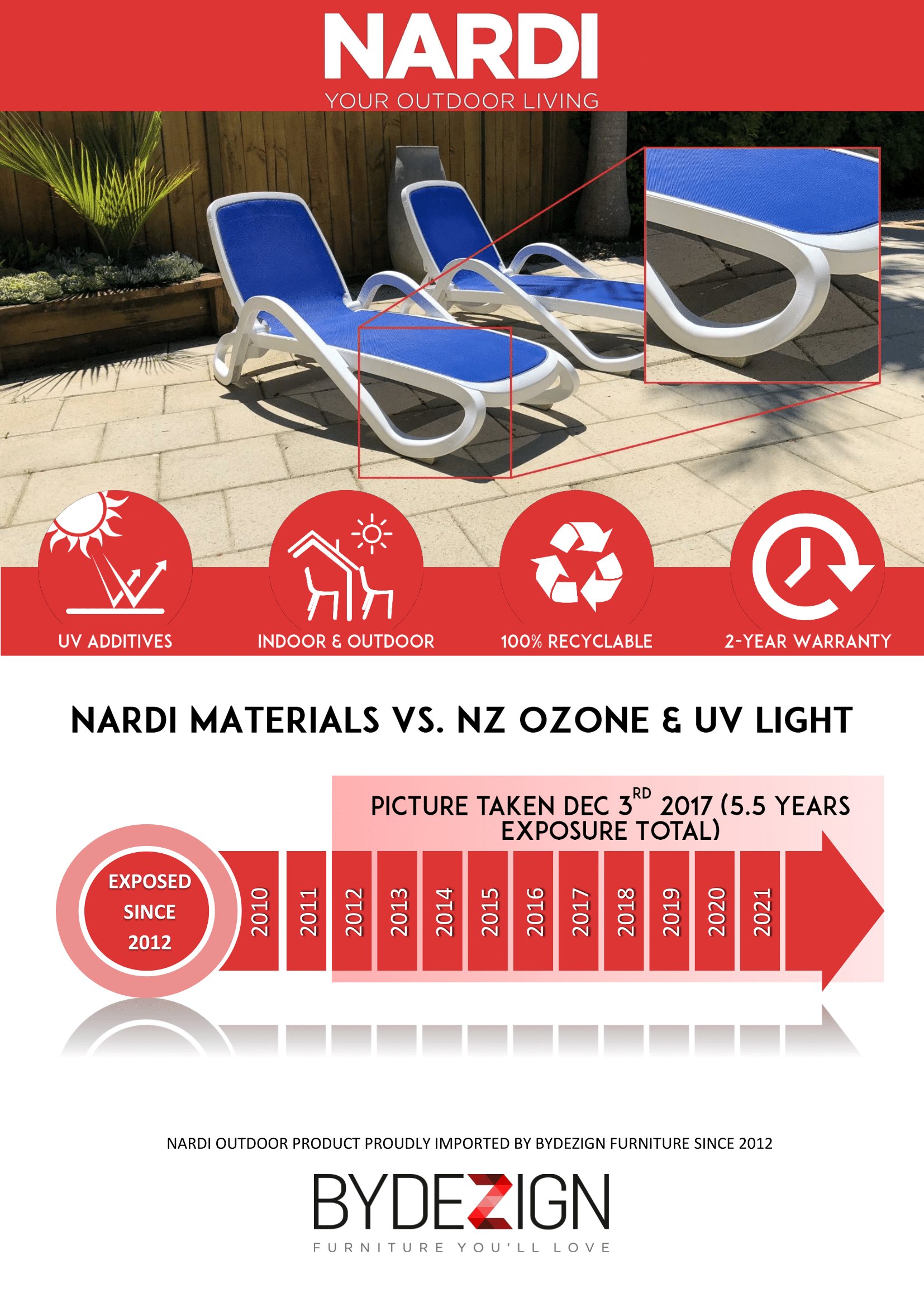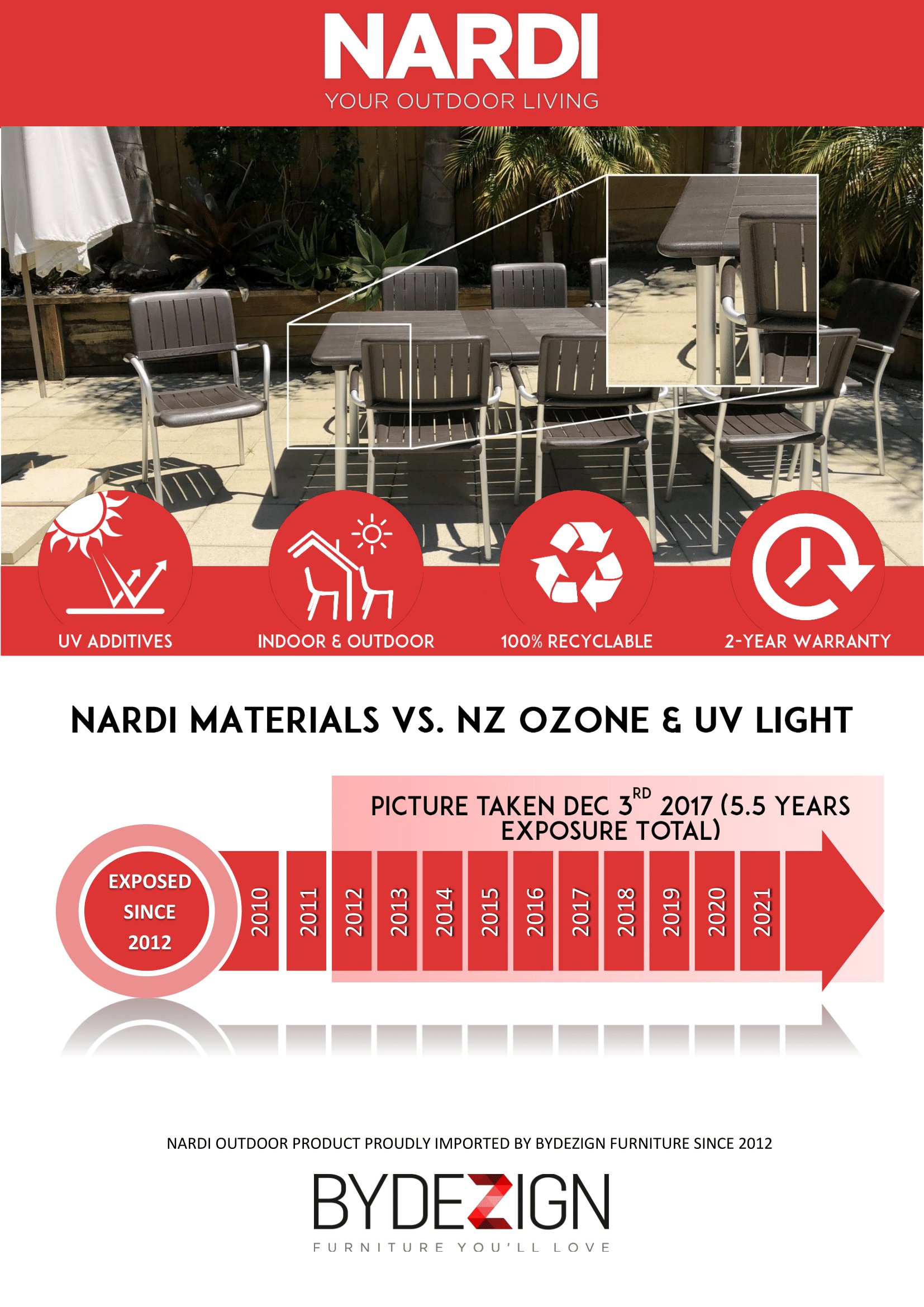 Nardi Outdoor Furniture Designer – Raffaello Galiotto

Born in Chiampo (Vicenza – Italy) in 1967. After studying Fine Arts at Accademia di Belle Arti, in Venice, he founded & opened his own industrial design studio in 1993. His areas of specialization involve designing injection moulded plastic products, indoor & outdoor furniture, and stone & marble work. His projects have been exhibited in prestigious museums & international events, as well as being published in books & magazines. He currently teaches design at the University of Ferrara.

You can find more information about the designer on Nardi Outdoor's Raffaello Galiotto – Designer Profile.
FINANCING WITH OUR PARTNERS
ByDezign Furniture offers a range of flexible furniture funding solutions via our financing partners so you can get your hands on the equipment you require without the need for a large upfront capital outlay.
Financing your furniture in this day and age couldn't be easier. With these options, we can have your furniture financed in as little as one day. Our partners have teams of dedicated professionals that can offer fast and flexible financing options for your business or personal needs.
---
Q-Card – One of the Best Credit Card Alternatives

*Q Card lending criteria, $50 Annual Account Fee, Establishment fees, terms and conditions apply.

Silverchef – Dedicated Kitchen & Hospitality Equipment Funder

*Silver Chef lending criteria, fees & terms and conditions apply.
---
If you've got any queries please feel free to drop an email to info@bydezignfurniture.co.nz or give us a call on (09)589-1895 and talk to one of our helpful staff. Please note that financing is not guaranteed, each of these options has their own set of criteria and terms & conditions that must be met in order to qualify.

Brand: Nardi